Main content starts here, tab to start navigating
Indoor and Outdoor Dining Available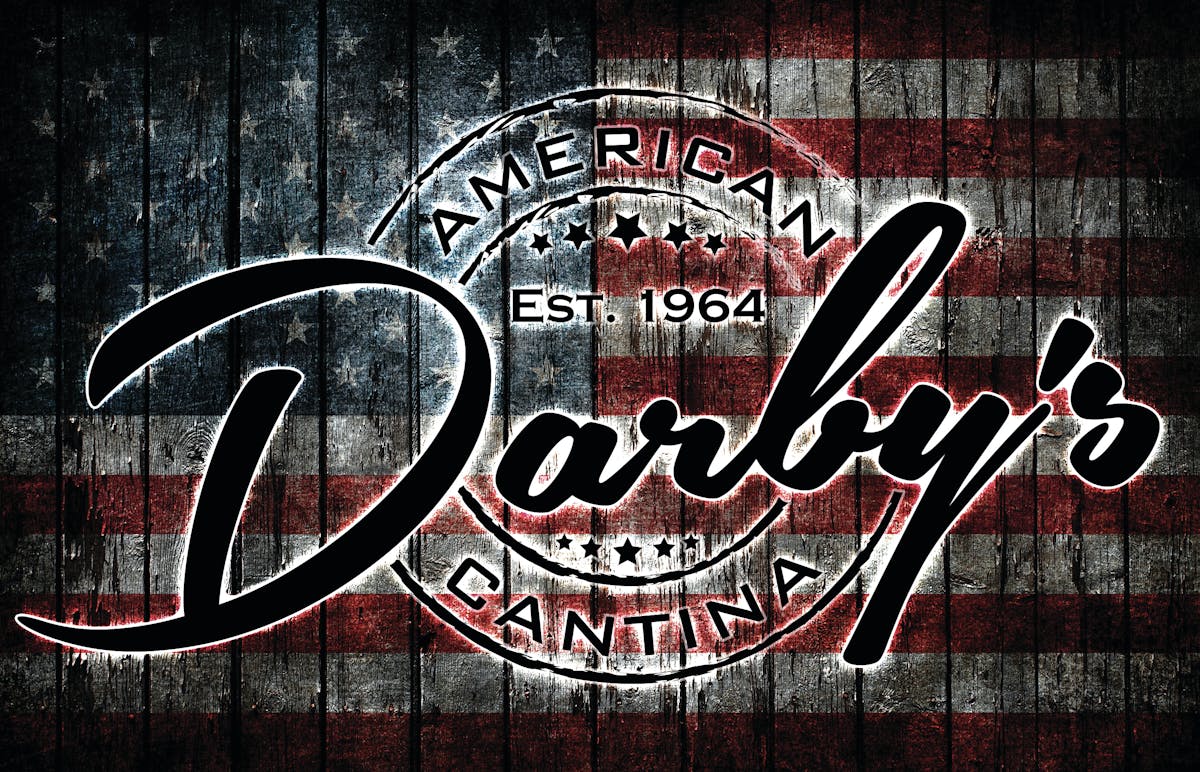 Available Mon-Fri
11 AM - 4 PM
Soup & Salad

Our mixed up garden salad and a bowl of our soup of the day

$10

Tacos & Papas

Two 4" tacos served with a side of fries Choose ground beef or chicken

$10

Little Wings

A small order of wings served with fries. Bone in - Boneless thighs - Gardein (Veggy). Frank's Hot - Mango Habanero - Spicy BBQ

$10

Turkey Club

A smaller version of our "Killer" turkey club Served with fries or potato salad

$10

Classic Burger

1/3 lb burger served with fries. Lettuce - Tomato - Red Onion - Pickle - Darby's Spread

$10

Carlo's Mini-Me Quesadillas

Three 4" mini quesadillas served with fries

$10

Mini Chicken Caesar Salad

A mini version of our Twisted Chicken Caesar Salad

$10

Mini Chicken Cobb Salad

A mini version of our Ultimate Chicken Cobb Salad

$10
Darby's Mixed Up House Salad

Spring Mix, tomatoes, cucumber, red onion, cheese and housemade ranch dressing

$7

Fresh Cut Chips and Salsa

Fresh cut tortilla chips lightly fried and served with a side of salsa molcajete

$7

add a side of guacamolé $6

Aha! Ahi

Our redesigned Aha! ahi comes with thinly sliced lemon dill sushi grade seared ahi served with avocado, mango, chimichurri and sriracha vinaigrette

$14

Bacon Wrapped Shrimp

Three 2-piece bacon wrapped shrimp skewers served with chipotle honey sauce

$18

Mozzarella Sticks

Breaded mozzarella sticks served with marinara or ranch

$11

Chicken Strips

Breaded chicken tenderloins with a side of housemade ranch or BBQ sauce

$11

O'Darby's Irish Nachos

French fries with poblano cheese sauce, cheddar cheese, bacon, pico de gallo, guacamolé , chipotle ranch and poblano cilantro crema Topped with fresh jalapeños

Small $10

Large $16

Downtown Redlands Nachos

Tortilla chips with poblano cheese sauce, cheddar cheese, pico de gallo, guacamolé, poblano cilantro crema and chipotle ranch Topped with fresh jalapeños

Small $10

Large $16

Customize your Nachos

add chicken or ground beef - small $3

add chicken or ground beef - large $5

add shredded beer or steak - small $5

add shredded beef or steak - large $8
Soup of the Day

A 12 oz. bowl of our delicious soup of the day!

$7

Pete's D.T.R. Dill Pickles

Hangar 24 Orange Wheat battered dill pickles served with mustard or chipotle ranch

$11

Avocado Taco

1/2 of an avocado stuffed with your choice or ground beef or chicken . Cheese, pico de gallo and lettuce

$11

Mango Tango

1/2 of a battered and fried avocado stuffed with ponzu ahi poke and mango salsa

$13

Kimberly Crest Quesadilla

Flour tortilla stuffed with cheese and served with guacamolé, salsa molcajete and sour cream

$11

add chicken $5

add steak $8

Judson & Brown Quesadilla

Flour tortillas stuffed with cheese, zucchini, mushrooms, red onion and tomato served with guacamolé, pico de gallo and sour cream

$13

Old Skool Mac 'n' Cheese

Traditional style cheddar mac 'n' cheese

$10

Market Night Mac 'n' Cheese

Poblano cheese sauce, applewood smoked bacon and roasted poblano chili

$12

World Famous Hot Wings

Choose from spicy buffalo, mango habanero or BBQ Served with celery, carrots and ranch dressing Also available in boneless chicken thighs or Gardein™ vegetarian boneless wings

Small $8

Large $15
Un-Wedged Wedge

An iceberg wedge with red onion, cucumber, bacon, blue cheese crumbles and tomato served with ranch or blue cheese dressing

$11

add chicken $5

add steak $8

Buffalo Chicken Salad

Fried boneless chicken tossed in buffalo sauce, avocado, tomato, cucumber, celery, red onion, carrots, blue cheese crumbles and our housemade ranch dressing

$16

Twisted Chicken Caesar Salad

Fresh romaine lettuce, tomatoes and cucumbers tossed with the original Cardini Caesar Dressing Topped with croutons

$16

Jimmy D's Quinoa Stack

A masterpiece that starts with sriracha vinaigrette quinoa layered with avocado, mango, tomatoes and red onion slivers topped with sliced cucumber

$4

add chicken $5

add steak $8

add ahi $10
Ultimate Chicken Cobb

Grilled chicken, bacon, avocado, tomatoes, egg, cucumber and blue cheese crumbles served over spring mix with blue cheese dressing Available with Gardein™ Chick'n Substitute

$16

Tropical Seared Ahi Salad

Sushi grade seared ahi with avocado, cucumber, mango served over a bed of romaine with our sriracha vinaigrette

$19

Shrimp Brochette Salad

Chipotle honey shrimp brochettes. avocado, tomato, cucumber, mango, cotija cheese, spring mix with a whole grain honey mustard dressing

$18

Bistro Steak Salad

Marinated skirt steak with avocado, cucumber, tomato, blue cheese crumbles and red onion served over spring mix with chimichurri vinaigrette

$18
Tacos y Burritos
Three 4" tacos served on your choice of corn or flour tortillas with Cantina black beans and citrus dill white rice Burritos are served ala carte
Tacos Americanos

Choice of ground beef or chicken, lettuce, tomatoes and cheese

$13

Rosarito Beef Tacos

Shredded beef, avocado, cilantro, cotija cheese, pico de gallo and poblano cilantro crema

$15

Baja Fish Tacos

Hangar 24 Orange Wheat battered cod, cabbage, pico de gallo and avocado tartar sauce

$15

Tijuana Steak Tacos

Marinated skirt steak, guacamolé, pico de gallo and cilantro

$16

North Shore Shrimp Tacos

Chili & lime shrimp, avocado, cabbage, mango salsa and cotija cheese

$16

La Posada Burrito

Your choice of chicken or ground beef, citrus dill white rice, cheese, french fries, fried avocado, pico de gallo and poblano cilantro crema wrapped in a large flour tortilla

$14

Chipotle Ranch Steak Burrito

Marinated skirt steak, cantina black beans, citrus dill rice, cheese, pico de gallo, guacamole and chipotle ranch dressing

$15
Handcrafted Burgers & Sandwiches
All burgers and sandwiches are served with your choice of French fries, onion rings , double secret bacon potato salad or garlic chive mashed potatoes Substitute an Impossible Meatless patty for $4
'Merica Burger

Premium beef patty, cheddar cheese, lettuce, tomato, onion, dill pickle and Darby's sauce

$13.50

Western Ranch Burger

Premium beef patty, bacon, cheddar cheese, pepper jack cheese, jalapeño straws, onion straws and bbq sauce

$15

Buffalo Chicken Burger

Fried chicken, pepper jack cheese, lettuce, tomato, dill pickle and buffalo sauce

$15

Cantina Fire Tortilla Burger

Ground beef patty, roasted poblano chili, pepper jack cheese, avocado. lettuce, tomato, jalapeno straws, mango habanero aioli wrapped in a flour tortilla

$15

Cantina Patty Melt

Premium beef patty, cheddar cheese, pepper jack cheese, fried egg, avocado, tomato and Darby's sauce served on grilled sourdough

$15

The Darbinator

Premium beef patty, applewood smoked bacon, fried pickles, fried egg, guacamole, cheddar cheese, onion straws, jalapeño straws and chipotle ranch

$17

Mike & Larry's Incredible Beef

Braised pot roast. grilled mushrooms, poblano chili and cheddar cheese. Served on Parmesan Crusted Sourdough

$16

Killer Turkey Club

Sliced turkey, Applewood smoked bacon, cheddar cheese, avocado, lettuce, tomato and cucumber dill aioli served on grilled sourdough

$16

The 1888

Cheddar cheese, bacon, poblano chili and grilled tomato served on grilled sourdough Substitute avocado for bacon to make it vegetarian!

$15

Red Hot Wrap

Fried chicken tossed in Frank's Red Hot, blue cheese crumbles, avocado, celery, romaine, ranch dressing wrapped in a flour tortilla Also available with Gardien Vegetarian Chick'n

$15

Chicken Cobb Wrap

Grilled chicken, avocado, bacon bits, egg, blue cheese crumbles, tomato, cucumber, spring mix, blue cheese dressing wrapped in a flour tortilla

$15

Get it Mel's Way with jalapenos and onions! $1

The Perfect B.L.T.

Applewood smoked bacon, avocado, lettuce, tomato, basil and cucumber dill aioli served on grilled sourdough

$15
Pasta Bolognese

Bolognese meat sauce, tomatoes and fresh basil. Sub marinara to make it vegetarian

$15

Cantina Steak Pasta

Tender strips of steak with a cream parmesan beef sauce, tomatoes, peppers, mushrooms and onions

$17

Hanger Steak

8 oz USDA Upper 1/3 Choice Hanger steak with chimichurri and au jus, Served with garlic chive mashed potatoes and seasonal vegetables

$28
Orange Street Fish & Chips

H24 Orange Wheat battered cod served with avocado tartar sauce and side of fries

small $10

large $17

JJ's Jalapeno Citrus Ahi

Seared ahi tuna with a side of citrus ponzu sauce and topped with a dash of sriracha and fresh thinly sliced jalapeños Served with seasonal vegetables and cilantro dill white rice

$23

Lemon Dill Salmon

Atlantic salmon, lemon, dill, garlic and herbs. Served with a side seasonal vegetables and citrus dill white rice

$22
Monday - Friday 2PM - 6PM
Sunday - Thursday 9PM - Closing
Happy Hour pricing not available during certain holidays or special events.
Happy Hour Eats
$2 off
Chips 'n' Salsa, Mozzarella Sticks, Avocado Taco
Pete's Pickles, Chicken Strips, O'Darby's Irish Nachos
Downtown Redlands Nachos, Fried Zucchini, Mango Tango
Kimberly Crest Quesadilla, Hot Wings, Judson & Brown Quesadilla
Bacon Wrapped Shrimp
Happy Hour Drinks
$1 off our Premium Well Drinks
$1 off our 2nd Tier Well Drinks
$1 off all Draft Beers
$2 off all Drinks and Shots on our drink menu
$2 off all House Wines by the Glass
20% off all Wines by the Bottle

Darby's Kids Menu
Moore Monarchs Nachos

Tortilla chips covered in melted cheddar cheese. Served with small sides of sour cream and guacamole Served ala carte

$9

Clement Vikings Mac 'n Cheese

Our housemade old skool mac n cheese - Served Ala Carte

$9

Grove Ravens Pasta

Pasta with Marinara Sauce - Served ala carte

$9

Below items served with choice of

Fries, mashed potatoes, veggies or a mini salad

Beattie Bobcat Quesadillas

Two 4" mini quesadillas served with a small side of guacamole

$9

CV Blackhawks Chicken Tenders

Three premium breaded chicken tenders served with ranch dressing

$9

A.C.A. Eagles Grilled Cheese

A grilled cheese sandwich served on sourdough

$9

R.H.S. Terriers Tacos

Two 4" tacos on corn or flour tortillas with ground beef, cheese and tomatoes

$10

REV Wildcat Burger

A beef patty served on a brioche bun with mustard, ketchup and dill pickle

$10
Kids & Community
Every month Darby's donates 10% of our kids meal sales to various local youth organization and charities. Each donation is made in the name of George and Virginia Cottone who were the 2nd parents to 1000's of kids at the Stardust Roller Rink.
All alcoholic beverages are for 21+ years of age with current ID required.
Cool Cocktails
Blueberry Mojito

Bacardi Rum · Club Soda · Mint · Blueberries · Réal Blueberry Simple Syrup

$11

Cool as a Cucumber

Rain Cucumber Vodka · Thatcher's Cucumber · Club Soda Cucumber · Lime · Mint

$11

Gin & Juice

Beefeaters Gin - Orange Juice - Pineapple Juice - Real Strawberry - Club Soda

$11

Kiwi Krusher

Deep Eddy Vodka · Réal Kiwi · Club Soda · Mint - Lime Juice Simple Syrup

$11

Market Night Mai Tai

Admiral Nelson's Light Rum · Myer's Dark Rum · Orange Juice · Pineapple Juice · Liquid Alchemist Orgeat · Grenadine

$12
Martini · Martini
Born To Be Wild

Skyy Wild Strawberry Vodka · Mint · Apple Pucker · Lemon Juice

$11

Karamel Apple

Stoli Salted Karamel Vodka · Apple Pucker · Sweet 'n' Sour · Lime Juice

$11

Martini McBride

Absolut Pears Vodka · Lemonade · Chambord · St-Germain Elderflower

$11

Monkey See Monkey Do

Rain Vodka - 99 Bananas - Marie Brizard Chocolate Liqueur - Dailey's Coconut

$12

State Street Fire

Rain Mango Vodka · Ancho Reyes · Agave Nectar · Grapefruit Bitters · Orange Juice · Lime Juice · Tajin Rim

$12
Whiskey Drinks
Blackberry Bourbon Smash

Makers Mark Bourbon · Italicus · Lemonade · Réal Blackberry · Club Soda · Mint

$12

Cobra Kai

Suntory Toki Whisky · Ginger Ale · Mint · Orange Juice · Lime Juice

$11

Old Fashioned Love Song

Templeton Rye Whiskey · Orange Bitters · Brown Sugar · Luxardo Cherry

$11

Cantina Basil & Rye

Sazerac Rye · Agave Nectar · Réal Ginger · Fresh Lemon Juice · Fresh Basil

$11

Nashville Lemonade

Belle Meade Bourbon · Triple Sec · Sweet & Sour · Sprite

$11

Run Forest Run

Old Forester Bourbon · Orange Bitters · Pama · Lemon Juice · Simple Syrup

$11
Shots!
Bomb Pop

Skyy Raspberry Vodka - Island Blue Pucker Sweet n Sour - Sprite - Grenadine

$9

Green Tea

Jameson Irish Whiskey - Peach Schnapps Sweet n Sour

$9

Kiss The Floor

Skyy Watermelon Vodka - Pama Lime Juice - Simple Syrup

$9

Mexican Candy

Rancho Alegre Reposado Tequila - Watermelon Pucker - Tabasco - Tajin

$9

Sponge Rob (Villa), Square Pants

Ciroc Pineapple Vodka - Pineapple Juice

$9
Workin' For The Weekend
Darby's Micheladas

Made with Preservation Craft Bloody Mary Mix · Lime Juice · Tapatio · Tajin Rim

Americano Michelada · Coors Light $8

Cantina Michelada · Modelo $9

Mango Michelada · Golden Road Mango Cart $9

Harvey Wallbanger

Tito's Handmade Vodka · Galiano · Fresh Orange Juice

$11

Redlands Snapper

Rutte Celery Gin · Craft Bloody Mary Mix · Fresh Lemon Juice · Celery · Celery Bitters · Jalapeño Stuffed Olives · Celery Salt Rim

$11

Sunday Bloody Mary

Rain Organic Vodka · Craft Bloody Mary Mix · Jalapeño Stuffed Olives · Celery · Salted Rim

$11
Cantina Margaritas
Cantina Cadillac Margarita

Olmeca Altos Reposado · Grand Marnier · Sweet 'n' Sour · Orange Juice · Lime Juice

$14

Coconut Lime Margarita

Olmeca Altos Plata Tequila · Patron Lime Citronge · Dailey's Coconut · Agave Nectar · Lime Juice

$11

Estadita Jalapeño Margarita

Olmeca Altos Reposado · St-Germain Elderflower · Jalapeños · Agave Nectar · Lime Juice

$12

Mambacita Mango Margarita

Olmeca Altos Reposado - Real Mango - Agave Nectar - Sweet n Sour - Lime Juice - Tajin

$11

Pomegranate Lime Margarita

Olmeco Altos Plata Tequila · Pama · Agave Nectar · Patron Lime Citronge · Sweet 'n' Sour

$11
Mule City
El Fuego Mango Mule

St George Chili Vodka · Lime Juice · Real Mango - Fresh Jalapenos - Top Hat Craft Ginger Beer · Mint

$11

Irish Mule

Jameson Irish Whiskey · Lime Juice · Top Hat Craft Ginger Beer · Mint

$11

I ain't Your Huckleberry

44 North Huckleberry Vodka · Lime Juice · Top Hat Craft Ginger Beer · Mint

$11

Kentucky Mule

Buffalo Trace Bourbon · Lime Juice · Top Hat Craft Ginger Beer · Mint

$11

Moscow Mule

Buffalo Trace Wheatley Vodka · Lime Juice · Top Hat Craft Ginger Beer · Mint

$11
Darby's House Wines
Jacob's Creek - Australia

Cabernet Sauvignon · Merlot · Chardonnay · Pinot Grigio

Glass $7

Bottle $24

10 Span Vineyards - Livermore, CA

Pinot Noir

Glass $9

Bottle $31

Charles Smith - Washington

Eve Chardonnay · Kung Fu Girl Riesling · Bed of Roses Rosé

Glass $9

Bottle $31

Justin Winery - Paso Robles, CA

Sauvignon Blanc

Glass $9

Bottle $31

Bubbles

Freixenet Brut Split · Spain $8

Campo Viejo Cava Brut · Spain $26

Dom Perignon - France $295
Fine Wines By The 1/2 Bottle - .375ml
Bertrand Cote de Roses Rose

France

$20

Ruffino Prosecco

Italy

$20

Dauo Cabernet

Paso Robles

$26

Jaffurs Syrah

Santa Barbara

$26

The Prisoner Saldo Red Zinfandel

Napa Valley

$26

The Prisoner Carneros Chardonnay

Sonoma

$30

Sineann Pinot Noir

Oregon

$30

Rombauer Chardonnay

Napa Valley

$35

Double Diamond Cabernet Sauvignon

Napa Valley

$60
Fine Wines By The Bottle - 750ml
Stag's Leap Chardonnay

Napa Valley

$42

Stag's Leap Merlot

Napa Valley

$42

Black Stallion Pinot Noir

Napa Valley

$42

Justin Cabernet

Paso Robles

$50

Penfolds Bin 600 Cabernet/Shiraz

Australia

$70

Cakebread Chardonnay

Napa Valley

$70

Justin Isosceles

Napa Valley

$100

Stag's Leap Artemis Cabernet Sauvignon

Napa Valley

$100